Alarm.com Video is not only an added layer of protection for your family and your home, it will also keep you informed about important daily events that happen at your property when you're not there. Cameras can be integrated with an Alarm.com security system or used independently.
Look what you can do…
Simple
Remotely control your cameras from any computer or smartphone
Receive motion-activated clips of your kids arriving home from school, or visitors knocking at your door.
View live or recorded video to stay aware of the activity at your property.
Watch live video from multiple cameras simultaneously
See what's going on, both inside and outside your home, all on a single screen.
You can also view your vacation home cameras from the same account.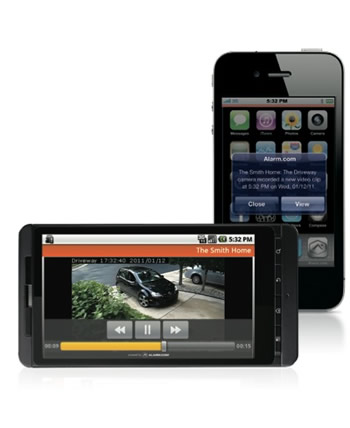 Flexible
Access and control your cameras with mobile apps for iPhone, BlackBerry and Android devices
Change the views of your pan/tilt cameras from your smartphone while you're at work or on vacation.
Schedule motion-triggered recordings at times important to you
Check in on kids and pets while away from home.
Get real-time email or text message video alerts
Watch contractors or cleaning crews coming and going.
Be notified in the event of a possible break-in.
Convenient privacy button option
Disable video recordings when you and your family are at home.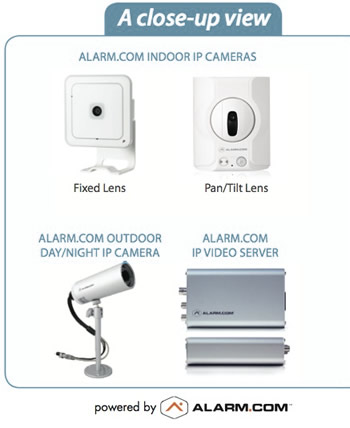 Powerful
View and protect recorded, searchable clips
With secure offsite video storage no tampering can occur.
Link traditional security cameras with Alarm.com's Video platform
Alarm.com's IP Video Server makes any existing analog camera compatible with Alarm.com Video.
Wireless IP cameras
Fewer holes in your wall during installation.
Tightly integrated with an Alarm.com security system
Receive video clips of what is happening when an alarm is triggered or someone has disarmed the security system.